Real Life Testimonials from my Clients...
He will soon be a 3-time World Boxing Champion!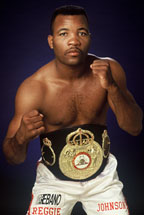 Vision is the art of seeing the invisible and I want to thank Tim Mousel for seeing what I see and what I've already seen twice. At this stage of my career the chance of me winning a 3rd World Title is out of the ball park to the non-believers.
They don't know of my secret weapon (Tim Mousel) and what he brings to Team Johnson and the mission at hand. Tim's job is to make me bigger, faster, and stronger in which will not only give me the physical edge but the mental edge as well as we pursue World Title number three and secure my spot in the Boxing Hall Of Fame. I know what the non-believers response is to Tim Mousel's job, How could that be so..... and yea right....... Well here's a reminder from my 3 year and 8 month layoff and return to the ring against the # 15 guy in the World: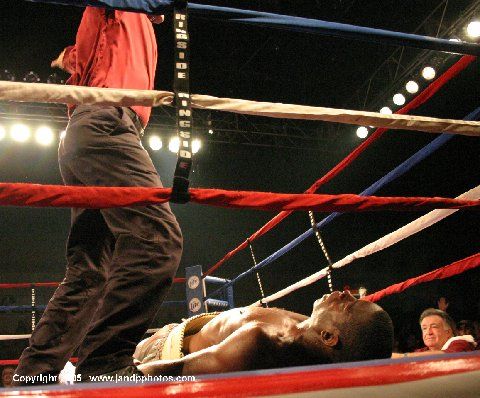 Fred Moore after a vicious knockout at the hands of Reggie "Sweet" Johnson!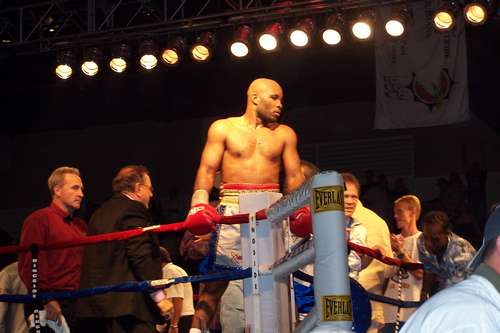 Reggie "Sweet" Johnson moments after knocking out #15 world ranked Fred Moore.

The Champ!!!

-Reggie "Sweet" Johnson
• Former NABF light heavyweight champion, one successful defense
• Former USBA light heavyweight champion
• World championship fights: 7-5
• Former IBF light heavyweight world champion, two successful defenses
• Former WBA middleweight world champion, three successful defenses
• Former USBA middleweight champion, three successful title defenses
www.ReggieSweetJohnson.com
4/7/2006
He lost over 50 pounds...

I got in touch with Tim Mousel a few months before I began training with him in Houston, giving him all my basic info – my name was Timur "Ty" Yilmaz, I was an engineering student enrolled at the University of Texas at Austin, and I would be in Houston for the summer working 40-50 hours a week, but with the full intent to train. I also told him I was interested in a variety of things, from fitness (I was very out of condition and overweight, to put it lightly) to self-defense and competition fighting, though I had no real prior experience. Tim replied that his program sounded like it would fit with my needs very well, and looking back on it he couldn't have been more right.
I was able to accomplish two goals that had been with me for years: I lost over 50 pounds over the course of just two and a half months with Tim Mousel, from mid-June until the end of August; as well, I was finally able to begin learning effective, useful martial arts, from boxing to combat grappling. Until August, due to work I was only able to meet with Tim once a week over the weekends, where I would get a private lesson, covering something new each time but with a constant review of what was previously learned – every time was new, a learning experience, and while physically demanding, very satisfying. To say the least, every private was well worth the price. I was inspired to buy a bit of equipment and train on my own from time to time during the week under a light regiment suggested to me by Tim Mousel, the best conditioning trainer I have ever had the pleasure of working with. He was also able to give me advice on nutrition, providing me with answers to any of my questions on that subject or any other, which was important to me cause I'm the kind of guy that likes to know the "why" behind everything.
In August, things took yet another turn in a good direction. I took several weeks off from work before I was going to return to school, but rather than sit on the couch all day, I decided to take a more aggressive approach with my training. After a quick consolation with Tim, I began training privately with him six days a week, anywhere from three to four hours a day. The regime was intense and tailored to fit my needs exactly – during every meeting, we would spend one to three hours on martial arts (going over Jeet Kune Do, Muay Thai, boxing, combat grappling, and even knife defense in a unique blend that only Tim can manage), then five days a week I would run hills for conditioning behind the place we trained at. In addition, three days a week I would do weight training under Tim's supervision. Finally, I'd spend the weekend sparring against some of Tim's other students, allowing me a chance to put what I'd learned to use and track my progress as time went on.
With little effort, anyone could find a dozen big-name notable fighters that Tim has molded and trained, but my story is about a regular guy with no prior experience having his life changed. Tim's inspired me to continue training in martial arts, even while I am in Austin – with his network of contacts, it's likely that he knows or can find other amazing trainers anywhere. Every time I come to Houston, I look up Tim for as much private training as I can fit in. I look forward to the upcoming summer for the opportunity in training it will provide once more. I fully intend to continue my training for years to come, to get into better shape and become an even better fighter.
-Timur "Ty" Yilmaz
4/5/2006
Full-time school teacher achieves his goals...
Few would question the logic of the old sports adage that to be the best you must train with the best. Accepting the truth and validity of this piece of conventional wisdom, no one embodies it more than Tim Mousel, owner and head instructor of Mousel Self-Defense Academy (MSDA). As his portfolio includes some of the world's greatest masters such as Dan Inosanto, Rickson Gracie, Surachai Sirisute, Eric Paulson, and Larry Hartsell, Mousel is a virtual encyclopedia of striking and submission techniques, combat strategies, conditioning protocols, and real-world, street-smart, approaches to dealing with countless self-defense situations.

Considering his incredible background and almost regal lineage in the martial arts world, it would easy to assume that Tim Mousel would be unapproachable and even, perhaps, a bit arrogant. This is about as far from the truth as possible. Tim's manner and teaching style belies his honest, hard-working, mid-western background. He is friendly, relaxed, and always ready to address questions or concerns over techniques or concepts. Tim also has a great sense of humor and seems to really enjoy what he does, however he does not sacrifice focus and the necessary discipline that is needed to take martial arts students to the next level-wherever that may be.

Of the many advantages of training at MSDA, the one that impresses me most is the variety of quality training that is offered. Here you will find traditional Muay Thai kick boxing, AND technical submission wrestling that not only encompasses Brazilain Jiu-Jitsu, but also features techniques from freestyle wrestling and Shooto. Classes in Jeet Kune Do Concepts and the rare (in this part of the world) Philipino Kali are also offered. MSDA is basically a "one- stop- shop" for all your combat needs. It is also worth noting that as Tim eschews the kimono/belt ranking system and all the political trappings and hype that it entails, he is able to keep his fees at a much more modest level than most schools in town, yet sacrificing nothing in terms of quality and content. Leave your new gi with the latest tribal designs and pit bull patches at home. A modestly priced school t-shirt, a pair of shorts, and a good attitude is all you need here.

If MMA is your thing, you should know that Tim Mousel was the first coach in Houston to send fighters to the UFC- years before most people knew that the "Octagon" was more than just the shape of a stop sign. Tim has countless hours of experience training top fighters for MMA, pro-boxing, kick-boxing, and submission wrestling competitions. Many MSDA team members have found themselves in the winner's circle at the end of the day thanks to the training and tutelage that they received under Tim Mousel's watchful eye and solid instruction.

As a 40 year-old, full-time, school teacher and father of three, my goals are modest and don't include trophies, belts, and cash purses. I simply want to be able to defend myself and family, maintain a superior level of physical fitness, and enjoy the intrinsic challenge of learning technical martial arts skills. Tim helps me achieve these goals with the same commitment and effort that he gives to his professional fighters.

I have had the honor of working with Tim in both private and group instruction for about two years now. He is punctual, professional, courteous, and above all, committed to his student's improvement. He has helped me grow tremendously as a martial artist and has given me the skill development and technique to improve on previously neglected areas of my game. Whatever your training goals and stylistic preferences may be, rest assured that MSDA will have something for you.

-Chris Strane
School Teacher
4/7/2006
After a lot of extensive research, he chose Mousel's Self-Defense Academy ...
I have been training in the martial arts for over 21 years. I have dedicated myself to seeking out and training with some the best martial arts instructors in the world. When I moved to Houston, after doing some research, I started training with Tim Mousel.
Tim has the broadest base of practical, effective martial arts knowledge of anyone in Texas and possibly in the Southwest United States. Tim has instructor certification from many internationally-known martial artists and is certified to teach empty hand, weapons, grappling and self-defense techniques. Tim is extremely humble and continues to train, improve and learn new things in order to give his students the most up-to-date information.
Although he holds many titles such as "Sensei" "Sifu" and "Guro", Tim does not use any of these but prefers that people just call him "Tim." I am proud to call Tim my instructor."
-Johnathan Bolton
Attorney
4/10/2006
Great training at a great value!
At Mousel's Self-Defense Academy we train hard, but safe. If you are a beginer or a novice this is where to come if you want to learn what works and what is the most effective against everything. Tim takes the best parts out of many styles and incorporates them into a training regimine that will get you in shape and mentally prepared so that the moves become second nature.
Whether you want to learn hand and foot fighting, boxing, clinch fighting, or on the ground (grappling and submissions), this is the place to call home. Did I mention all this at a great value! Nuff Said.
Terry Chilson
Student
4/28/2006